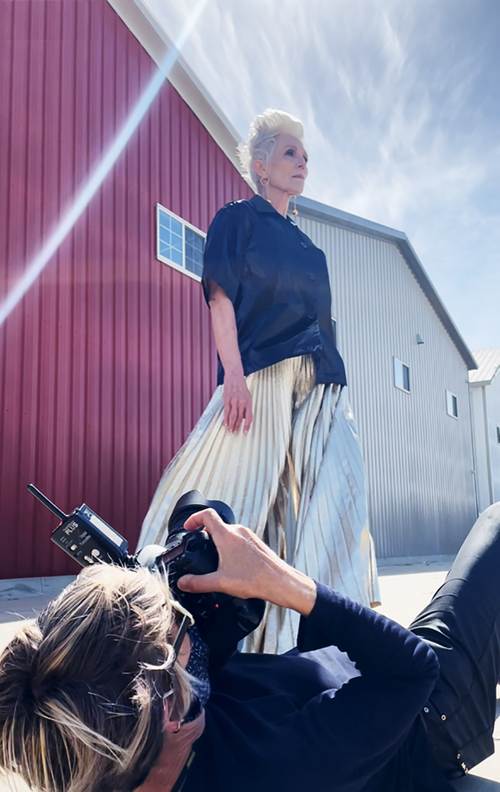 Globally recognized and Los Angeles based photographer Dorit Thies has earned a stellar reputation over the last two decades as a go-to talent for beauty, hair and fashion clients looking for creative solutions to their most high-profile projects.
Clients such as Estee Lauder, GLAMGLOW, SEPHORA, Revlon, Urban Decay, ELLE Magazine, L'Officiel Magazine, GLAMOUR Magazine, New Beauty Magazine and THE AMAZING Magazine have all benefitted from her ability to conduct shoots that produce premium work that is done fast, efficiently, and on-budget.
Always expanding her creative horizons, in January 2020, Dorit's work was celebrated with a solo photo exhibit featuring 25 of her floral images at the prominent Space Place Gallery in Russia.
Languages: English & German
Located in Los Angeles, California, USA
ENDORSEMENTS
While I served as Executive Design Director at GLAMGLOW, I had the pleasure of working directly with fashion/beauty photographer, Dorit Thies, for 18 months. We worked on high-caliber branding campaigns targeting our end-use consumers and Sephora stores worldwide. Dorit has a keen, amazing eye for glamour, beauty and all related details. She works quickly and is extremely creative. A great collaborator and easygoing and alert on set, Dorit manages a professional and reliable team during the whole production process.
She created results far beyond our expectations. I highly recommend Dorit for any brand that's looking for a talented, experienced photographer because she is a strong team player and geared towards our business success.
-Deborah Norman, Executive Design Director at GLAMGLOW
I've worked with Dorit on numerous campaign shoot's with Estee' Lauder's Beauty brand, GlamGlow and have always enjoyed and appreciated the collaboration. Dorit is incredibly creative and it shows in the results of the shoots, the images are always beautiful as she thinks of all aspects of the image. She is professional and has been an absolute pleasure to work with. I look forward to doing more in the future!
- Lisa Abrams, Producer at Oui Productions
I have worked with Dorit Thies on several photography projects in the recent past, including cover and layout shoots for Nail It! Magazine, a fashion layout for Kurv. Magazine and several lifestyle and e-commerce shoots for BedHead Pajamas. I believe that her strong vision including her lighting skills is what makes her stand out. Her lighting has a special quality to it. She is a strong creative force who develops high-level beauty, fashion concepts and stories. She is kind, generous and very professional on set. Because of all the qualities she is a dream to work with. She shares her set and has a lot of respect for others who add value to the concept. She is collaborative and a team player.
-Naz Afshar
Creative Team Leader and Manager | Art Direction | Graphic Design | Visual Design | Branding 360° |
"Dorit Thies Photography provides the best experience. Her team is a delight to work with, she is the guarantee to deliver great executed photos."
-Celine Obone, Business Administrator, SHEER LUST
"Dorit's creative eye and ability to not just capture the shot, but the experience, the feeling, is what sets her apart. Her enthusiasm and professionalism from start to finish makes the entire process extremely enjoyable."
-Kate Martini, Creative Director, ALOXXI International
"Dorit Thies has an exceptional eye for beauty photography. Her versatility allows her to create everything from simply gorgeous shots to stunning avant garde images. I've worked with her for covers and editorial shoots for both Nailpro and Nail It! magazines and I'm never disappointed".
-Stephanie Yaggy Lavery, Editor-In-Chief at Nail it! Magazine
"Dorit Thies is an outstanding professional in her field of beauty image photography. She created exactly what we had in mind for our new REVLON LASH product launch. As Creative Director of Pacific World Cosmetics, I needed someone like Dorit who gave us the confidence that we were in great hands. Her well-rounded knowledge about the industry, the creation of the images, her technical skill and easy-going personality made this production a pleasure. We are extremely happy with the results".
-REVLON Art Department
"As the Creative Director for Pevonia Spa Clinica, a new skincare line based on customizable regimens with professional online aesthetician support, I needed to hire a top notch beauty photographer for our image campaign. Dorit understood our brand message immediately and transformed it into images that perfectly visualize our completely new approach to skincare. Not only did she create a natural, glowing look with her highly professional team, she delivered on time and through her resources was able to find the perfect model for us. Dorit is smart, artistic, accomplished--a strong asset to any cosmetic company--plus she is fun to work with! I can recommend her highly."
-Muehlenweg Art Digital muehlenwegad.com
"When we launched VictorySuccessSystem.com, we recognized that strong visuals would be a key element to our branding. Both Phil Dyer and I agreed to hire photographer Dorit Thies because she understood the look we wanted to achieve, and she delivered exactly that. Time is of the essence for two busy CEOs and we appreciate her being timely, fast and on budget. Dorit delivered as promised and we are using her images everywhere, including in a news segment that ran over 21 times on national television about Victory Success System. We recommend Dorit to any professional leader who wants a timely, environmental portrait that is lit exceptionally. She is perfect for anyone wanting more than the usual corporate headshot."
-Larry Broughton VICTORY SUCCESS SYSTEM