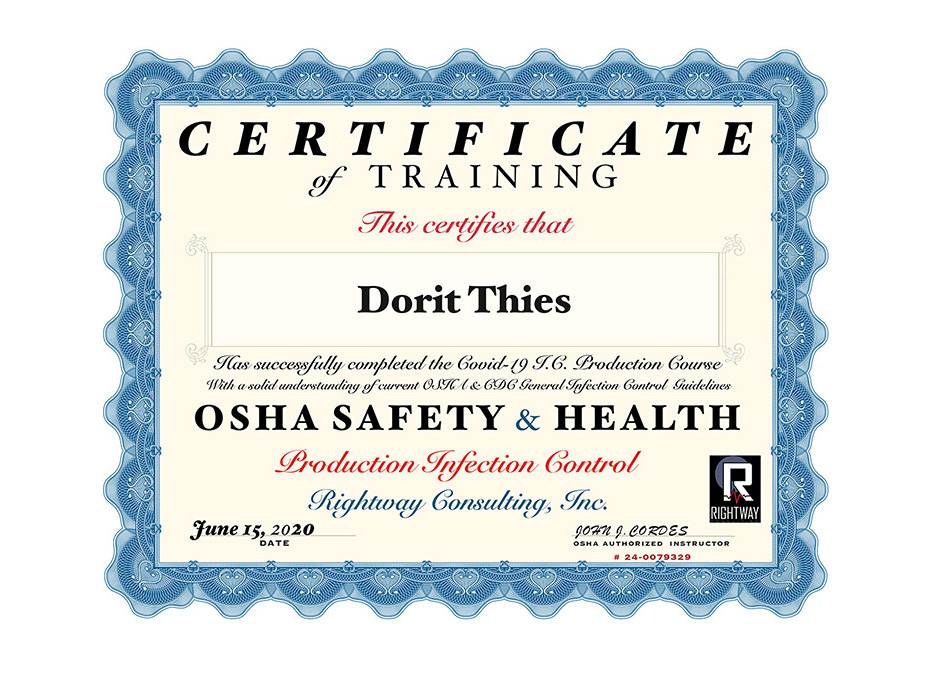 Pre - Production
Risk Assessment: Not all shoots will have the same level of risk. In general, a shoot outdoors is safer than a shoot indoors, a shoot with a crew of 3 is safer than a shoot with a crew of 30. However, there are many nuances, and risk should be assessed as part of the pre-production process. A risk assessment could ask questions like these, among others:

Is a "Health and Safety Monitor" available?

How many people will be present?

What are the sizes of the locations? Indoor or outdoor?

How is the ventilation?

How well trained is the team in COVID-19 production?

Are there masks, gloves, and other PPE readily available?

How complex is the shoot?

Based on this risk assessment, a customized safety plan could be created for each individual shoot.

Creative Directors, Art Directors, Art Producers, etc
4. Can budgets be adjusted to leave room for longer, slower shoots with less crew, but more attention to safety protocols?
5. Can schedules be adjusted to leave more time for virtual pre-production, online shopping, and slower shipping, and longer, slower shoots?
6. 1. Currently, production/crew/talent should be local.
2. If clients or agencies are not local, provide live stream / virtual attendance options.
Limit crew size
Smaller crews are better. The actual size of a crew would depend on the size of the location.

Crews should maintain 6'+ social distancing practices at all times.

Live streams and virtual attendance options should be considered for all personal, including clients, agencies, stylists, digital techs, retouchers, etc.
Limit talent to people that have been previously exposed to each other, or shoot talent separately.
Do virtual casting whenever possible, or find casting directors that have significantly adjusted their processes (no more "cattle call" castings or waiting rooms, certain age groups doing only self-tapes at home, etc)

Cast real couples, real families, roommates, etc, to avoid creating new exposures on set.

When possible, use compositing tools to shoot talent separately.
Scheduling
Shorter shoots are safer than longer shoots due to viral load (eg. two 5 hour days is safer than one 10 hour day)

Whenever possible, work could be done in shifts (i.e., first the props team, then the lighting team, then the photo team, then the video team, etc)
Choice of locations
A shoot at the beach in Malibu is safer than a shoot inside a small house.

An outdoor shoot safer than indoor shoot

A large indoor space is better than a small indoor space

Windows open are better than windows closed

Fans can help
Virtual pre-production

Do whatever is possible to do virtually, including prop styling, wardrobe styling, pre-production meetings, etc.

Disclosures and liability releases

A dedicated person should reach out to all crew members the night before the shoot to have them verify they have no symptoms and have no known exposure to the virus.

Any respiratory symptoms (runny nose, cough, sore throat) or fever rules in the possibility.

It could be a cold or allergies, but until there is POC testing, the safe bet is to not come in.

How will we handle people not being allowed on set because they have some symptoms?

Crews need to sign liability waivers before the shoot related to the potential exposure to Coronavirus on set.

Production will ask crews to sign a post-shoot waiver indicating that proper protocols were established and followed

On Set Protocols

A safety meeting should begin each shoot day with information about these safety protocols.

Situational Awareness / Protocol monitoring

All crew members should be trained in, and expected to display situational awareness related to Coronavirus.

This is common sense stuff: hand washing, social distancing, airflow, disinfection of packages and EQ, etc.

A Health and Safety Monitor person needs to be on set, whose role is to ensure protocols are being followed, spot unsafe behavior, and monitor for symptoms.

Testing of crew

When rapid testing is available, all crew and talent should be tested for Coronavirus before the shoot.

Until then, they could have temperatures taken before the shoot, and anyone with fever or exhibiting symptoms would not be allowed on set.

Personal Protective Equipment

The crew should provide their own PPEs. Production should provide backups.

N95 masks offer the most protection, but require training, and maybe overkill for photoshoots according to John Corde (OSHA Authorized Trainer).

Level two surgical masks provide protection and should be worn by all crew members at all times to limit "source output" (asymptomatic carriers of the disease spreading it through respiratory droplets)

Latex gloves can be helpful if used appropriately.

Proper use of gloves requires training to avoid cross-contamination. You should avoid skin contact when taking the gloves off, and dispose of them properly.

Eye protection can help avoid infection.

Cover-alls

Crews could change out of their "on set" clothes before returning to personal vehicles, homes, etc.

Take note that Coronavirus can live on your shoes

PPEs must be used correctly, crews should use online resources to train in proper use. The Health and Safety Monitor onset could also advise in proper use.

Equipment handling

Do not share EQ, or limit sharing to a minimum

If the equipment is being handled by more than one person, disposable gloves should be worn, and the equipment should be sanitized after use. Here are CDC recommendations for cleaning and disinfecting: https://www.cdc.gov/coronavirus/2019-ncov/prevent-getting-sick/disinfecting-your-home.html

Including cameras, lighting and grip EQ, production supplies, etc

Seamless paper and other potentially reusable items should be disposed of after use.

Germicidal boxes and UV wands are somewhat effective if used in conjunction with other sanitization tools.

What do we do about set gloves needed for touching hot lights? The virus can live on that material and those gloves don't get washed much. Would the heat of the lamp kill the virus? Is there a disposable heatproof material (like CineFoil) that could be used between the gloves and EQ?

Airflow: If we look at the model of "negative airflow" used in hospitals, we see that proper airflow helps prevent infection.

Indoor locations should have proper airflow. Fans and open windows can help.

Glam: Because of their potential close proximity to talent, special considerations should be taken for makeup, hair, and wardrobe stylists.

Where possible, consider using virtual or onset consultants for glam that help talent do their own makeup/hair/styling.

If these stylists must go within 6' of another person to do their job, use proper PPEs.

The website Photoshoot Guidelines has created comprehensive suggestions for hair, makeup and styling.

Disinfection of sets

Line items will be included in budgets for disinfection of sets before and after the shoot.

Clean frequently touched surfaces including doorknobs, drawer pulls, and toilet levers.

Create a list of frequently touched surfaces for sanitization.

Consider naming a "Sanitization Ambassador" responsible for ensuring proper disinfection of the set.

Ample hand sanitizer and hand washing stations should be provided.

Catering

All catering and craft service should be single served, and pre wrapped.

Utensils should be single use, or crews can bring their own.

Look for safe ways not to default to single use plastics. It is possible for sets to be "clean and green".

No visitors allowed during shoots. Establish a safe controlled environment where people know their roles and are looking out for themselves and their colleagues.

What does this mean for budgets?

Budgets will need to include new line items for proper safety protocols to be followed.

Shoots will be slower because there are fewer crew members, and so what once was a one day shoot may need to be 2-3 days.

Budget savings on less travel and fewer crew members onset may be offset by longer shoots and additional safety protocols.